Motorola Talkabout T400 Review
Ratings
Design -

8.2/10

Features -

7.5/10

Range and Sounds Clarity -

8.2/10

Price -

8.8/10
Motorola Talkabout T400 Hiking Walkie Talkie Review
Check lowest price:
It has been more than a decade since the earliest versions of modern walkie talkies were used by sailors travelling across the Atlantic Ocean. Just as this device served those seafarers, walkie talkies continue to help us bridge long distances, ensuring that we're safe, efficient and can always communicate with those further away. There are literally hundreds of walkie talkies on the market, and it can be easy to get confused about which one is the right radio for you. In this review, we'll take an in-dept closer look at the Motorola Talkabout T400 hiking walkie talkie.
Whether you are taking your family on a camping expedition or going backpacking alone, a set of walkie talkies is a highly essential item. With a huge assortment of walkie talkies in the market, and most modern ones having a wide range of frequency options, and some of them weighing less than half a pound, where does Motorola Talkabout T400 hiking walkie talkie come in?
The Motorola Talkabout T400 walkie talkie is an excellent camping and hiking walkie talkie, and is a necessary item, perfect for camping and outdoor family excursions and trips. It has a durable, light, waterproof body, and is packed full of features. In terms of price and functionality, it really is great value for money. The T400 proves to be an ideal outdoor radio because it comes with a weatherproof design. The radio can hold up against different weather conditions, including dampening rain and frigid snow. Besides being weatherproof, the T400 also comes with a channel dedicated to the National Weather Service. This ensures that users are ready and informed with the forecast at all times and avoid potentially dangerous situations.
Performance
The Motorola T400 hiking walkie talkie has a mountain-to-valley range of about 35 miles. However, on open water, the device's range is six miles. In residential areas or in the city – where buildings can affect the signal – the radio's range is reduced further to just 2 miles. The range of the T400 is about average in comparison to those of other walkie talkies on the market. There are walkie talkies that feature longer ranges, but for the price of the T400 it's range seems very respectable.
Like many other walkie talkies on the market, the Motorola Talkabout T400 can operate on either rechargeable NiMH batteries or 3 size-AA batteries. This radio is designed to signal whenever its battery is running low to warn you early to switch to other charging methods. This walkie talkie is designed to be power efficient and eco-friendly. According to Motorola, the T400 uses just half wattage of power when it is idle.
Although there are some walkie talkies with longer-lasting batteries than the T400, the difference is not so great. When fully charged the T400's NiMH battery can last up to 8 hours. However, the NiMH batteries in some other walkie talkie models – including some other Motorola Talkabout walkie talkies (i.e. the T480) – have up to 10 hours of battery life. While 3 size-AA alkaline batteries in the T400 can last up to 21 hours, the same set of batteries can last up to 27 hours in other walkie talkies (such as the Motorola MR350R Talkabout Two Way Radio). Still, the battery life on the T400 is great for the price of the radio and will generally suffice for most users.
The Talkabout T400 has 22 channels to choose from, including GMRS (General Mobile Radio Service) and FRS (Family Radio Service) frequencies. It also has 121 privacy codes, which totals to 2,662 combination options, making it really easy to locate an open channel network. If you are still facing difficulties in finding a free frequency, then you have the option of running a channel scan. You also have access to private channels and hands-free operations. The Motorola Talkabout T-400 can also access NOAA weather channels, and if there is a local emergency, your radio will signal you.
Other Features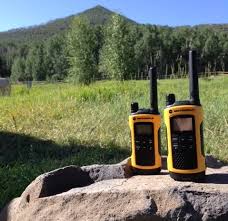 The T400 has many features to personalise your radio. You can easily customize your call tones and also set a unique tone to indicate when you've finished speaking. The Motorola T400 hiking walkie talkie also allows keeping your hands free while hiking or climbing any rocky terrain. In other words, the iVOX / VOX acts like a speakerphone and facilitates hands-free communication.
Another interesting feature is the QT or the Quiet Talk facility, which permits nonstop communication with other Motorola radios that share this feature. It can filter any annoying transmissions from non-Motorola radios, particularly in busy and high traffic zones. The T-400 also has the facility of communicating with any radio that has the FRS/GMRS feature, irrespective of its brand, as long as it shares matching channel and privacy codes.
The Talkabout T-400 has a backlit screen in addition to displaying valuable information. The battery meter will notify you when you need to recharge the radio. The built-in LED flashlight guarantees that you will not have to worry during unforeseen emergencies or power failures. Alternately, you can also use three AA batteries (to be purchased separately) in case of an emergency.
The handset, as mentioned earlier, also has the SCAN feature to identify which channels are in use. It can also be programmed to transmit a distinct tone when you finish your conversation. In other words, it would be like replying "Roger" or "Over" after you complete your conversation. You can also personalize the radio to notify you when your batteries are low. There is also the keypad lock facility that prevents your personalized settings from being accidentally changed. It also prevents the user from accidentally pressing the keys while on the go
Conclusion
The T400 has been highly rated as one of the most usable hiking walkie talkies in the Talkabout series – even for non technical people and also kids. Given the fact that it is slightly bigger than other walkie talkies in the Talkabout series, the T400 may not be the ideal hand-held device. However, the hands-free option gives you the chance to continue speaking while climbing or engaging in any activity that requires the use of your hands. This feature can be especially useful in the outdoors on hikes and long walks. The T400 also comes with built-in LED lights, which can serve as a backup in emergency situations. Generally, the T400 is relatively easy to use and its bright yellow color makes it easy to locate.
Overall, the Motorola Talkabout T400 walkie talkie measures up well against other similar products in the same price range. It is particularly recommended for a family outdoor experience.