Ratings
Design -

8.8/10

Features -

8.8/10

Range and Sound Clarity -

8.2/10

Price -

9.2/10
Motorola MS350R Walkie Talkie Review
Check lowest price:
A lot of people may naively believe that the time of walkie talkies is long gone, just because mankind is living in the 21st century and we have many alternatives, but the opposite is true. There are hundreds of applications where walkie talkies are simply better than cell phones and other communication devices. For a start, when you drop your precious iPhone it will pretty much shatter. The Motorola MS350R walkie talkie will have no such problems. It it rigid and can take a shock or two. Another issue walkie talkies solve is that, for example, in rural areas where there are significant problems with signal reception of cell phones, walkie talkies become the only one way of communication possible.
The Motorola MS350R walkie talkie is one of the more affordable and popular walkie talkies on the market. Included with your purchase are the following:
Two walkie talkies: The Motorola MS350R comes as a set.
Rechargeable NiMH battery pack: Ideal and rechargable.
Attachable clips: Keep the walkie talkie on your belt or bag.

User's guide

Charging cradle.
A significant disadvantage can be immediately noticed in this configuration: The fact that you only receive one charger for two walkie talkies from Motorola. If you plan to keep the walkie talkies separate from eachother this may cause some issues, as the charger can only be in one place.One solution to this propblem is that normal AA batteries can be used in place of the battery pack. Additional chargers are also widely available.
Naturally, the new battery packs are fully discharged when you open the box. For the best performance of the receiver, it is highly recommended to charge the battery to 100% without interrupting the charge cycle. From there the walkie talkie should work right away, and you should have no issues setting it up.
Performance
According to Motorola, the MS350R  walkie talkie units can communicate with each other and other brands and models at a distance of 35 miles. However, it should be understood that what is meant by this is completely ideal circumstances. Think of open areas without walls, metal containers and without strong interference from other devices. You also need to consider the possibility of weather interference. A strong storm can greatly disrupt the communication between the two receivers and range can be significantly reduced.
To battle the range falling off, the MS350R has a built-in relay. The owner can use MS350R with local repeaters to effectively increase the coverage area. To use this option, the walkie talkie owner must have a GMRS license from the FCC. They are very easy to get though, and make your walkie talkie much more powerful. We think this is definitely worth it. Overall, You have access to 22 radio channels, which might be sufficient to avoid having to obtain the aforesaid licenses. To use the relay you get access to eight more channels though.
MS350R has the ability to be powered not only by the NiMH battery pack, which is supplied, but also from ordinary AA batteries. Each power supply has its own advantage and disadvantage. The NiMH battery pack is very light and with it the radio has the ability to remain on the surface of the water. Maximum life timing of this kind of energy source equals to up to 9 hours when fully charged. AA batteries allow the radio to function for 23 additional hours. But along with them radio becomes a little heavier heavy. The charge level of the walkie talkie is shown by the light indication. In addition, it has special feature for saving battery life. The radio can be switched to an idle mode after a certain period of time from 30 to 90 minutes.
Other Features
A clear advantage of Motorola MS350R is its firm and strong body. It is made according to the IP-67 standard. This means that the device's body is waterproof at short time intervals. The walkie talkie can withstand being under water to a depth of one meter for up to half an hour. After retrieval from the water, it will still work perfectly. MS350R can be used not only at domestic locations, but also on active outdoor holiday activities:
Fishing
Kayaking
Longer hikes (rain will not cause any damage to the radio)
Canoeing, etc.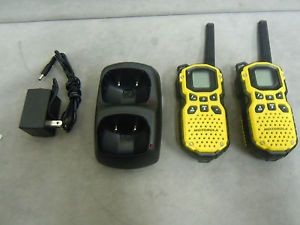 Bright color makes it easy to find the device if it has fallen into the river or lake. It should be noted that the authorized representatives of Motorola guarantee the retention of the receiver on the water only when the owner is using NiMH-accumulators. If the unit is equipped with standard AA batteries, it will most likely sink due to the additional weight. The body shape is very ergonomic. The radio can be easily held in one hand, even with for instance skiing gloves on.
Of course, it could happen that someone else communicates on a close frequency. In this case, you can often hear subtle noises on your walkie talkies. The MS350R battles this with eliminator codes (EC), which can be used for suppression of disturbance noises. The total number of eliminator codes available is 121.
The Motorola MS350R has ten different tones to notify the user, who is on the other side of the line. The ring tones can also be used as roger beeps so you know exactly when the channel is clear to talk..
Motorola provides a range of additional features and accessories. For example, if you want to use the radio with free hands, you could communicate through iVox, a hands free system, or you could also order a special headset for the walkie talkie .
Quite often, you'll want to take your walkie talkie on long trips and such radios have to work in difficult weather conditions. The Motorola MS350R owners have a considerable advantage. The walkie talkie has 11 built-in channels that broadcast around the clock actual weather forecasts. So if, for example, a storm warning comes out for expected weather changes, you can find shelter in time, or you can postpone work that needs doing.
Conclusion
In general it can be claimed that Motorola MS350R is unique in its kind. Of course, this walkie talkie is designed primarily for activities in the great outdoors where cell phone coverage is limited. The positive side is much greater than the identified deficiencies. Being able to remove the battery pack and replacing it with AA batteries when your power runs low is a great advantage, which is not always available from other manufacturers or models. The only minus we found is that the set has only one charger for two walkie talkies, but this is easily solved. Another charger is not too expensive, and the MS350R is relatively cheap compared to other radios.