Motorola Talkabout T480 Review
Ratings
Design -

7.8/10

Features -

7.7/10

Range and Sound Clarity -

7.2/10

Price -

8.4/10
Motorola Talkabout T480 Rugged Walkie Talkie Review
Check lowest price:
Ever since I was small, I have had a great fascination with walkie talkies. Being able to communicate with someone at the press of a button without even being in the same room or building was absolute magic to me and was unparalleled in my mind. I begged my parents for a pair of walkie talkies for a long time, and eventually I finally got some. It was a great toy that I used with my friends when we would play while we pretended to be soldiers, spies or really anything else. But that was just it; I saw walkie talkies as no more than a toy than anything else.
Since my childhood walkie talkies have come a long way. Motorola has been a renowned and respected manufacturer of all sorts of communication devices, including walkie talkies. They've created countless models and have become very well-known in this area. It's no surprise then, that Motorola has decided to come up with their latest model, the Motorola Talkabout T480. This rugged walkie talkie was created mostly with adventuring and emergencies on hikes and camping in mind. It boasts being always on and ready to send or receive a message at lightning speeds. The T480 is also regarded to be excellent at being able to operate even when cell towers are down. It is capable of receiving weather alerts, and is also resistant when it comes to said inclement weather with a great splash waterproof and rugged design. Motorola also claims that this model has a range of up to thirty-five miles, which almost seems unnecessarily efficient indeed. However, it carries much more features than you would expect for a walkie talkie.
Performance
The great thing about the latest walkie talkie technology is that you no longer need to have a matching pair of radios. You can now connect, for example, a Motorla T480 with any competing brand, like Cobra walkie talkies. So as you consider a buying a walkie talkie, you don't need to think too much about what other radios people in your party use. You can choose freely for the brand or model you feel most comfortable with.
That being said, the Motorola T480 does more than communicate. At a closer look of the device, it has a small knob sits on the top that is reminiscent of a volume control in your car radio. As you turn this knob, it allows access to 22 different channels. Within each of those channels, there are 122 private codes available for use. The combination of these transmission channels and privacy codes, you'll have thousands of channels to choose from for communication with your party. Now, you won't be speaking entirely privately, and if someone else with a walkie talkie decides to use the same channel and privacy code you're on they'll be able to hear everything you say. While this might be a concern for some, with over a thousand different settings, the chance someone coming along and finding your exact configuration is extremely unlikely.
One of the largest complaints about walkie talkies as a whole is that their transmission range never quite reaches the advertised range. We have seen this time and time again, and there is something to be said for misinforming buyers of the product. That being said, how does the Talkabout T480 stack up when it comes to range? The truth is it's a little bittersweet. Motorola advertises that the T480 can communicate at a distance of up to thirty-five miles. If that were to be true, you would never have a problem losing anyone on your next family camping trip! Unfortunately, however, that range only gets met when you have an unobstructed, clear line of sight to the person. What this means is that you'd have to be hanging off a cliff top, with no trees, no buildings, or in fact anything else in the way. When taking all of this into account, the Talkabout effectively only reaches up to around 10 miles in the countryside and probably no more than one mile if you're in the middle of the city. Now that isn't a bad range at all compared to many other models, but it is slightly disappointing when Motorola insists on advertising higher ranges.
Other Features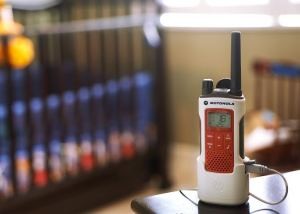 The big reason why people do still choose the Talkabout T480 despite a disappointing range is that Motorola designed this rugged walkie talkie to help you prepare for any emergency. In this relatively small device, they've integrated weather alerts and FM radio. You can imagine how helpful these features would be on a day where the weather might just turn for the worst and especially while you're using it in the great outdoors.
Additionally, Motorola designed the exterior of this model to be strong, and long lasting. Every port on the walkie talkie comes with a rubber flap that you can close over it. These work well enough to make the Talkabout T480 splash waterproof and dustproof. Just make sure those little doors are always shut when the ports aren't in use and your radio should last you a lifetime.
Conclusion
The Motorola Talkabout T480 is a rugged walkie talkie packed with a great collection of features and durability to provide safety and convenience to any trip whether it's through nature or even the city. It's sturdy and rugged in almost every way, prepares you for any emergency, and works well under trying conditions. While the range isn't quite what is advertised, you'll have little problems trying to reach your friends. All in all, the Motorola Talkabout T480 is an excellent choice for a walkie talkie. It's got a lot of useful bells and whistles, comes in at a decent price, and the communication quality is very good. We can recommend this product to anyone who likes the outdoors.