Ratings
Design -

8.2/10

Features -

8.2/10

Range and Sound Clarity -

9.2/10

Price -

8.8/10
Motorola RDU4160D Walkie Talkie Review
Check lowest price:
If you are looking for high quality on-site walkie talkie systems at your workplace, the Motorola RDU4160D could be the perfect choice for you. If you have already used the previous models from Motorola, you should try this model too. This new model from Motorola RD series is polished, reliable, efficient and  up to 30% more powerful than the previous versions. This model is best suited for people who are looking for high-quality audio connection across a mid to high distance. We received our model recently and have decided to put together a thorough walkie talkie review for you. Learn about the product in detail before you head to your nearest store to grab this piece!
As mentioned, the Motorola MDU4160D is excellent for businesses. As a business owner, you might want to considering a purchase for this right away, because with their amazing performance, these walkie talkies will ensure that you build a great communication network among your personnel. Due to the incredible audio quality and great network coverage, you can pass on any critical information to the concerned person within no time. Whether you wish to make your customers completely satisfied when you solve their demands rapidly with the help of these on-site walkie talkies or if you simply need them so your security stewards can transmit vital information to each other. You will be able to appreciate the use of these walkie talkies better in the event of an unfortunate incident. Due to the superb sound quality of these radios, you will be able to pass on information promptly so that for instance people are evacuated quicker, the right people are deployed to help people caught in crisis, or you can pass on important information to door staff for example when you catch a burglar in the act.
Features
Getting to know your Motorola RDU4160D Walkie Talkie
The following are some of the top reasons as to why the Motorola RDU4160D on-site walkie talkie may be the perfect choice for you:
Excellent sound quality, even in areas that are prone to huge noise disturbances.
This Walkie Talkie is highly durable, waterproof and has excellent resistance against harsh climates.
Very user friendly – The RDU4160D allows users to set and rename programs in a way that it is comfortable to use for them.
Huge network coverage of approximately 350000sq. feet ( close to 30 floors).
Battery that is lightweight, and has extended life of 18.5 hours on a full charge.
Improved performance inside structures made of steel or concrete due to the ultra-high frequency compatibility.
Audio output capacity of 200MW and 16 channels that users can use at any given time.
Comes with a warranty period of one year.
Designed to such great precision that it can be used by military departments as well.
With the above points, we have just covered the overview of the service that you can expect from this product.
Other Features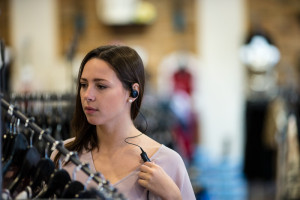 When you purchase the Motorola RDU4160D either from a retail store or through online portals, you will get included many items like a 200mAh rechargeable and light-weight battery made of lithium, a clip with a spring belt, a charger that can charge your walkie talkie in less than 10 hours, an antenna, warranty card details, a brochure and an elaborate user manual. This user manual is very important. Make sure you take considerable time and effort to read through all the documents before you start using your walkie talkie. For your benefit, there is a detailed user guide as well, which you can refer to, in case of any questions related to in case of any queries.
The Motorola RDU4160D has the following key specifications, which should provide you enough justification that this model provides good value for money. The Motorola RDU4160D functions on a ultra high frequency range of 438 to 470Mz. It has a high resistance against shocks, dust, humidity and is compatible for all kinds of environments. Furthermore, this mocal operates in temperature ranges from -30 degrees Celsius to 60 degrees Celsius.
Conclusion
Lastly in this walkie talkie review we would like to point out what some users have said about the RDU4160D in their customer testimonials:
This is a great radio for GMRS. All you have to do is contact Motorola and send them your frequency list and your license and they will send you the code plug. Buy the programming cable and download the free software from their website. The speaker is super loud and clear for its size. Even if you turn it up all the way it's still clear. I was very impressed with its clarity. You can switch it from high to low power to conserve power. You can also set a scramle mode so that only other radios set to that same scramble code will here you.
I use this at a club (I'm a DJ) it is really loud and clear! Really good durable quality. I recommend If you are planning to use a two way radio outside in the rain or snow get one without a lcd screen.
This radio has the solid quality that you expect when you buy a Motorola Business Radio – with more flexibility at the user level than Mot has offered in the past.
With so many great user reviews, there really isn't much more we can say about this product. We are sure you will not have any regrets on your decision, given the great range and audio quality of this product. The Motorola RDU4160D is very reasonably priced. This is a product that, with it's robustness lasts a lifetime. They came packed with features and accessories and this model from Motorola RDX series is undoubtedly worth every penny.