Ratings
Design -

8.6/10

Features -

8.2/10

Range and Sound Clarity -

8.8/10

Price -

7.4/10
Motorola CP200 Professional Radio Review
Check lowest price:
The Motorola CP200 is a professional radio that offers a wide range of features but comes with a bit of a hefty price tag. With a market full of cheap walkie talkies available, why should you pay more for your devices? Many may wonder if the radio is really worth the price. Although it may be a lot up front, the Motorola CP200 offers more features than you might expect. Before you sink a ton of money into a product you have to know that it will serve you well enough and keep working through the abuse it will likely take. Here's the info that can help you determine if it is really worth the high cost.
The CP200 is a powerful walkie talkie that offers a way to communicate across long distances even in noisy environments. It has a push to talk feature that utilizes a single button, accessible even when the operator is wearing gloves. It has multiple battery options that offer extended use of the various options and rapid recharge abilities. You can also utilize a speaker mic to keep the radio at your side while you answer calls. The unit includes a belt clip to keep it attached securely while you go about your work, and the speaker mic accessory can be kept within close reach so you can continue your conversation. These radios have been a popular choice of those in the field for quite some time. From small fire departments to local police, you can expect to see these Motorola walkie talkies in use on a day to day basis. They are tough enough to withstand the elements and reliable enough to keep going.
Performance
One of the possible drawbacks of the Motorola CP200 is that the standard battery life may be a little shorter than you may expect. The standard battery life when the unit is in operation is roughly 10 hours, but with the rapid recharge option and the ability to switch out and upgrade the battery, it is possible that you can get much more out of each charge. Additionally, you can purchase extra batteries that can be charged and carried in the vehicle along with you in case you need backups. Since it is such a widely used radio, there are also a large number of accessories and replacement parts if you would need them.
Many new radios come with a similar number of features, but few have such a simple and well-planned design. Although the base model doesn't include a screen, it does include bright tricolor LED indicators showing feedback, calling, scanning, or monitoring features. It really is the case that the simpler the case case the easier it is to operate. The channel selector is a large rotary switch instead of a digital button that you may have expected. This offers less chance of failure and more adjustability for the user. The side of the device features a push to talk button as well as two programmable buttons that can be used for multiple purposes. The simplicity of the design is by far one of the features. Instead of being stuck fiddling with buttons or headsets and staring at a small screen all the time, this item just needs some pre-programming after which it will just work.
Other Features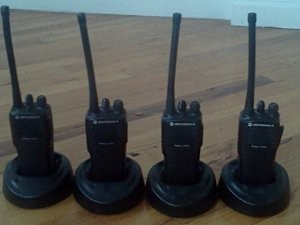 This radio offers much more than a standard walkie talkie. The CP200 can broadcast at 2 watts or 5 watts. It also utilized multiple frequency ranges, both VHF and UHF. Beyond its own broadcasting abilities, it is repeater capable, meaning it can reach much further as part of a larger network. It is able to use private lines, allowing for you to have privacy in your conversation. It features a voice operated transmit (VOX) option to offer hands free use, which makes it that much more useful when you need it.
These walkie talkies offer much more durability than the average professional radio we have reviewed. They actually are in a different class altogether when it comes to reliability and toughness. Motorola uses multiple methods to test how these radios hold up under pressure. They can withstand steady rainfall and wind for up to 30 minutes and dust for up to 6 hours on each surface. The radio is able to withstand 48 hours of exposure to salt solution. It can even withstand shocks and vibration as well. Environmental factors are of very little concern as well, as the radio can operate at temperatures as low as -30 degrees Celsius. The durability of these units has been one of the biggest reasons that they continue to see use out in the field by professionals. They are tested to military spec and withstand a large amount of punishment.
Conclusion
While the price tag comes in a little higher than what may be expected for a walkie talkie, the benefits of this product are very clear. Many users later say that they really feel that these walkie talkies exceed their expectations in both range and durability and Motorola has done an excellent job with this model. When you take into account the benefits that come from a strong build like you get with this model, you can see that these professional radios are likely more than worth the money. Many users find that it doesn't matter if you are using it in a quiet room or in a vehicle while the siren is blaring, you will be able to hear and communicate clearly. The price is a reflection of the quality you will get with this excellent Motorola product..