Ratings
Design -

8.2/10

Features -

8.4/10

Range and Sound Clarity -

9.0/10

Price -

9.2/10
Uniden MHS126 Walkie Talkie Review
Check lowest price:
If you are a rower or boater or if you are someone who spends considerable amount on the sea sending out signals to different parties then this is exactly the walkie talkie review for you. Looking for a great marine walkie talkie that is easy on the pocket and still helps you do your job amazingly well? If that's the case then you must take a look at Uniden's MHS126 marine walkie talkie then. This unit comes with some powerful features that will keep you well protected inside the waters. Why compromise on quality, when you can get one of the best brands at a very affordable prices?
Handy and light weight – This walkie talkie only weighs about 1.7 pounds.
Performance can be increased by boosting the power of this unit to various levels of transmission signals (1, 2.5 and 6 watts) – This means that you can improve the power range of your walkie talkie by boosting its responsiveness to various signals. You can easily communicate with concerned parties over a long range without any hassles during emergencies.
Passed high quality standards – This walkie talkie can remain submerged in 5 feet of water for about 30 minutes. Ideal for taking it out to sea!
Comes with emergency strobe light – The strobe light makes you highly visible even in the dark or at sea. Comes incredibly handy when you are caught up in a crisis. Not only can you find the walkie talkie if it falls overboard, people can now spot you from far away if YOU fall into the water.
Automatic alerts about weather reports – This helps you plan your trip better and avoid days when you get unfavourable weather alerts. This feature is something that you are going to love having on your radios. Additionally, it keeps you up to date when you are out for sudden changes to the weather.
Bored of reading user manuals and finding it tough to comprehend the instructions there?  – With the Uniden MHS126 walkie talkie, you will be saved from this trouble. The unit is so user-friendly and easy to set up, that you don't have to depend on any guide at all. Charge the batteries, switch it on and you can use this right out of the box.
Batteries have 11 hours of life and the unit comes with a battery tray which helps you have a backup at all times – No need to run out of juice!
Stylish and slim – These words best describe this marine walkie talkie from Uniden. You will find utmost ease while holding and operating this radio and you are sure to feel awestruck at the design.
Other Features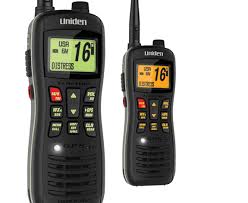 The MHS126 works excellent. We were able to transmit over a long distance, and the sound is clear and understandable. Like all Uniden walkie talkies, it is well-built, reliable, and it just works perfectly as you desire.
With this marine radio, you can get immediate access to the two main emergency channels – Channel 9 and Channel 16. The former has to be compulsorily used by boats while under water and the latter is the one used for non-commercial calling purpose. There is one more channel which could, in many ways than one, save your lives by providing timely alerts. This is the automatic weather alert channel and people who have used this marine radio cannot stop raving about this feature. There are so many testimonials on how rowers and boaters have saved theirs and their colleagues' lives based on weather alerts received from this channel.
Conclusion
Customer testimonials
These are some of the reviews of customers who have used this marine radio. There is hardly any criticism found in these.
"Far superior than most of the other costly units available in the market. Great range and highly accurate audio quality in spite of being priced at just close to $110".
"Excellent life of rechargeable battery even when radios are switched off for many months together. Beautiful waterproof marine radio that makes the exercise of the boating community easier".
"Accurate and clear sound signals; however, tends to become slightly unclear in the event of situations where engines create lots of noise and disturbance".
Dropped it into the water several times during jet skiing; however it still works like new". Impressed? So are we.
"Looks like Uniden MHS126 has been designed in such a way so as to make it the leader among all marine radio brands available today".
"Outstanding quality for the money charged – would surely recommend this to friends.
Come and enjoy your rowing, boating, jet-skiing and all related water activities with this high-quality marine radio to know what excellence is all about.