Uniden Atlantis 250G Review
Ratings
Design -

8.4/10

Features -

8.6/10

Range and Sound Clarity -

9.2/10

Price -

8.0/10
Uniden Atlantis 250G VHF Marine Walkie Talkie Review
Check lowest price:
The Uniden Atlantis 250G is a large and heavy radio from Uniden's VHF marine walkie talkie range. It is designed with outdoor activities, and especially marine use in mind. The Walkie talkies frame features a rugged and ergonomic design. It is completely splash proof and it meets the JIS4 and CFR46 waterproof standards. The Atlantis 250G is very sturdy allround, can take a bit of a beating when dropped (although this is obviously never recommended) and it has a flexible rubber antenna, usually the most fragile part of walkie talkies.
The backlit LCD screen offers easy viewing during both day and night. The backlit LCD screen provides information such as current channel you're scanning and a battery level meter indicates how much battery you have left before you should charge, or switch the battery pack. The Uniden Atlantis 250G has 8 backlit push buttons on the front for a wide range of features we will go through below. It also has two large control knobs on top To control both the volume and auto squelch, which is a noise filtering feature to eliminate background sound and static.
The Uniden Atlantis 250G VHF marine walkie talkie can endure various types of water and weather exposure such ocean waves, and water spray. There is a gasket around the battery area that prevents the water from entering into the radio device. If you accidentally drop the radio into the water, it is advised that you remove the battery and use fresh water to rinse it after retrieval.
The Atlantis 250G is suitable, and indeed ideal for various types of recreational activities such as fishing, and boating. It is available in two color themes including white and black.
Performance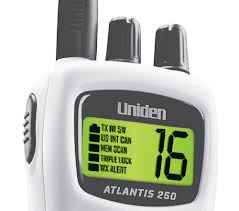 The Uniden Atlantis 250G offers a maximum transmission range of up to 50 miles. As with all walkie talkies the actual range you receive depends on where you are located and the conditions of the terrain. The walkie talkie offers 2 power settings of 1 watt and 5 watt. You can choose the 1 watt power setting for short range communication. For long range communication, you can select the 5 watt option.
The Atlantis 250G can last for up to 12 hours when it is running on the NiMH battery included with your purchase. When the battery does run low, or runs flat completely, you can also operate on alkaline batteries. The radio comes with a charging cradle, drop in charger and alkaline battery tray. As with most products, alkaline AA batteries are not included. AC and DC adapters are included though, so there are a lot of ways to keep your walkie talkie alive even if you wish to use it for longer periods of time.
Other Features
The Atlantis 250G has access to 22 channels and 142 privacy codes. It can receive weather alerts from USA, Canada and International VHF marine channels. It can receive 10 NOAA weather channels to keep you informed, and safe on your trips. You will receive warning alerts on severe weather when you activate the emergency weather alert setting.
Of the 22 channels available, two channels are instant, being channel 16 and 9. These channels are not to be used for communication, they are stricly emergency channels only and monitored by the coastguard and mountain rescue organisations. The triple watch function lets you monitor three channels at once, so you can use your own channel to chat to your friends or collegues, but you can keep listening to channels 9 and 16 at the same time. When you turn on the triple watch plus setting, You may not notice a difference right away, but the walkie talkie will automatically scan the channel 16 and 9 for activity and pass on any broadcasts so you are aware of any dangers near you.
The memory channel scan can be used to perform a scan on the channels you have programmed including the security codes you have found for your party to use. It will start scanning from the lowest channel. When it detects an active channel, it will stop. It will resume scanning after a delay period of 2 seconds. This VHF marine walkie talkie also has a function which you can use to scan all the channels. The monitor channel feature lets you know whether a channel is clear for you to transmit messages. The channel memory lets you store the channels and privacy codes that you frequently used.
The audible beep button will play a beep tone whenever you press a key, which gives you confirmation on whether you have pressed the button. The keypad lock feature will lock your settings. This prevents your settings won't change when you accidentally press against it when you are carrying it around.
Conclusion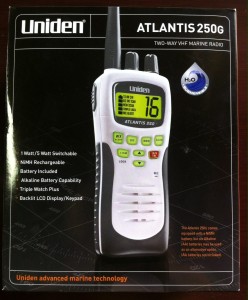 Uniden Atlantis 250G is an affordable radio that will meet all your expectations. It is ideal for people who need a radio for every day use, especially on marine trips like boating, fishing or just to have on board just in case. It is a good deal for the price as it is sturdy and seems really durable. It will still work properly when exposed to various types of elements such as water, sand, mud and gravel without any problem. The battery lifespan is as advertised. Added to this, you have many different ways to keep recharging your walkie talkie.
Other included accessories are the flexible rubber antenna, a belt clip, a wrist strap, the manual and a mounting screw. The Atlantis 250G is covered by a 3 year manufacturer warranty. It is a basic walkie talkie radio that offers a lot of features for it's price range. Overall, the Uniden Atliantis 250G it a fantastic VHF marine walkie talkie recommended for people who are looking for a high quality budget radio.