OuterStar Durable Kids Walkie Talkie Review
Ratings
Design -

8.6/10

Features -

8/10

Range and Sound Clarity -

8.7/10

Price -

9.2/10
There is a huge difference in the products that we buy for our professional lives and the products that we choose for our children. This carries on when it comes to walkie talkies too. The walkie talkies made by OuterStar that are especially for kids are quite different from the ones that we use. It does not have any stand out features which would make you throw money at them. Instead, they are rugged, and cheap.
Check lowest price:
Unboxing
In the box, you get the walkie talkie, two straps and a product instruction manual. The device is available in three colours. There is a blue colour, a green and a grey colour available as purchase options. These walkie talkies use three AAA batteries which are not included in the box, which means you have to buy them separately. You should be careful to remove the belt clip when you put the batteries inside. This would make it easier as the batteries just slide right in and fit into place in a snap. Moving on to the build quality of this device, there is a certain sense of childishness with the design, which inspires confidence in the adult me that it won't break easily. That seems to be true as the walkie talkie can sure take quite a bit of abuse, without any issues whatsoever.
Design
There are exactly six buttons on the front, and the left-central side position is occupied by the push-to-talk button. This is absolutely perfect as a placement in my opinion. There is a power button on the extreme left. A menu button, as well as the flashlight button, is also present on the walkie talkie. Two arrows to control the volume are also present. Unlike us, kids do not need stealth mode, and as such, it is absent on this walkie talkie. Kids play around in the dark a lot, and a prominent flashlight button here is also a good design choice.
When it comes to children, the chance of breaking things and losing things is way too high. So you need a device that does not burn a hole in your pocket but acts as a really useful tool as well as a gift. This device seems like one of them. There is not a lot of buttons on the device too, which is good as small kids will get confused with too many buttons on them.
Functions
A simple push to talk feature is of the utmost importance here. Most little kids do not know how to configure these things. You will have to set it up for your kids if you decide to buy them. Once you are done with that, you can teach them how this device works, and they will be communicating with you and their friends in no time at all.
There is a hands-free function present on this walkie talkie as well. In order to activate it, you need to press menu button three times in the VOX icon on the LCD display. The radio will then proceed to transmit a signal that is activated by your voice or some other sound around you. The manufacturer says that they don't recommend this feature in a noisy or windy environment. This is just testament to the fact that in itself these walkie talkies don't have the best microphone on the market and that there are definitely certain flaws present in the software processing on this device.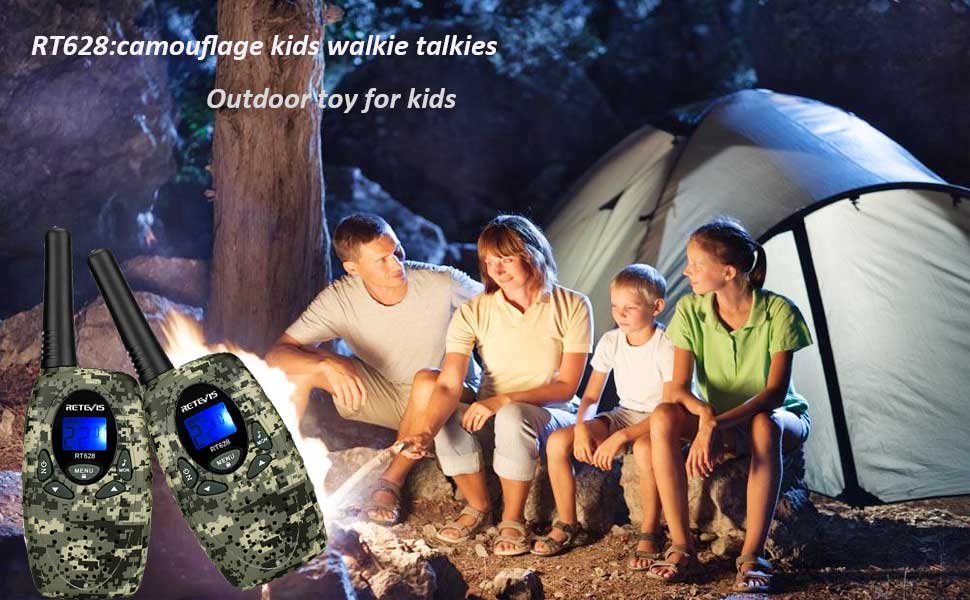 There is squelch present on this device and when I tried it out, I felt it went a bit over board. The audio in range was otherwise perfectly audible, and there are no complaints on that front here. As far as customisation goes, you can set the ring tone from the ten choices that are present in the settings of the walkie talkie. The call feature is particularly useful if you want to communicate with someone one on one and not leave a message on a channel which may be noticed by others.
Range
During my testing, I found that the range of these devices is just about 3 and a half miles in open spaces. Again, with all the range tests that are ever performed, your mileage may vary depending upon the kind of terrain that you live in. If you are planning to use this is an urban space, then the coverage will certainly drop drastically because of the obstacles that are present in an urban setting. Things like concrete are responsible for dropped ranges in walkie talkies.
The battery lasts about 4-5 hours on a single charge. I personally tend to use rechargeable AAA batteries on my devices. They are more expensive initially but after the initial investment it always pays off.
Use cases
As far as use cases go, I think that these serve best as gifts to kids under the age of 14. They can communicate with you and their friends while they are outside playing, so you don't have to shout for them or worry that they will wander too far off. You can use it large shopping malls too, but only for personal use. There are 22 channels on this device. The frequency range on these is ranging from 400-470 MHz.
One of the biggest drawbacks of this device is that there is no waterproofing present on this device. I know that asking for waterproofing at this price point is a ridiculous ask, but most of the broken walkie talkies that my kids have brought to me are the ones that have taken a dive into the pool by accident.
Conclusions
This walkie talkie is a really cool gift for a little child. It is easy to operate and has a simple design that will be understood easily. There is a flashlight present as well, which also comes in handy in dark situations.