Ratings
Design -

9.2/10

Features -

8.0/10

Range and Sound Clarity -

8.7/10

Price -

8.0/10
Midland GXT5000 Professional Walkie Talkie Review
Check lowest price:
The MidLand GXT5000 is a professional walkie talkie, introduced at the Consumer Electronics Show in 2011 by Midland representative Stuart Barber. The Midland GXT5000 was presented as a professional, tactical grade, long-range walkie talkie made for rough conditions so it can take a bit of a beating from both environments and weather. The GXT5000 was first available on the consumer market in late 2011.
The Midland GXT5000 walkie talkie is a lot more durable compared to other radios at the price range. The solid case is made from cast aluminum and it is designed to meet the MIL-STD-810 C, D, E, F military standards, meaning that the device can literally withstand war conditions, should it face any. When it comes to the conditions it'll probably more likely face in your household, and on your trips: The Midland GXT5000 can endure water splashing, dust, and heavy knocks. This professional walkie talkie is IP67 waterproof, meaning it is splash water proof. The only requirement for this is that you keep the walkie talkie in it's accessory jack cover. If all of this isn't enough, the walkie talkie is covered by a 5 year warranty, and a 3 year warranty for the included extra parts.
Lookswise, the GXT5000 seems great. The build is strong, and it has a bright backlit LCD screen that allows you to read the information clearly during day and night. The Transmit (TX) and Receive (RX) LED indicators let you know when you are successfully transmitting or receiving messages so you never have to wonder if you're being heard. The walkie talkie also has an orange LED warning indicator when the correct channel is received but the wrong privacy code is used.
Performance
The Midland GXT5000 offers a clear radio transmission range of up to 36 miles. You can get a great range especially in areas that have very little obstructions. We took this professional walkie talkie out for a drive and found that we got out to about 2.5 miles and could hear the radio without any problems. We occasionally had small issues during the drive because the range all depends on what is between the transmitter and receiver, but overall we were very impressed considering the urban terrain we were in.
If you get out of range of your group, you will hear a beep tone that indicates you have lost connection. This out of range beep tone can be heard every 3 minutes until you get close enough again to connect.
The auto squelch feature enables you to get rid of noises in the background so that you can hear the message clearly. The keypad lock feature enables you to lock all your personalized settings. The battery life extender will extend the lifespan of your battery life. The SOS siren can be used to send out distress signals when you are facing an emergency circumstance.
Other Features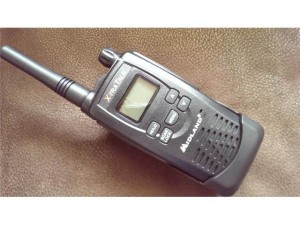 Like most walkie talkies of it's caliber, the Midland GXT5000 provides 22 FRS and GMRS channels. The FRS channels have an output of 0.5 watts and using these will not require you to get a GMRS license. The GMRS channel has an output of 5 watts. The GXT5000 offers 121 privacy codes, including 38 CTCSS and 83 DCS privacy codes. That makes a total combination of up to 2,662 channel options. You can use these privacy codes freely to block any unwanted conversations taking place on your channel of choice.
The Midland GXT5000 has a dual watch feature, which allows you to scan two channels at the same time. This is especially useful when you're on your own channel, but want to be notified of warnings, or weather changes in your area. It provides 5 different call alert tones for you to customize all incoming call notifications. The Roger beep tone indicates that you have reached the end of transmission so you know the channel is clear. You can set the radio to release an audible tone whenever you press a keystroke. If you don't want any sound, you can set to silent operation mode.
To save some power, you can set the timeout timer limits to a time frame from 15 seconds to 90 seconds. The radio will automatically stop the transmission and change to standby mode when it reaches the timeout timer limit and your channel is not being used.
The Midland GXT5000 supports hands free communication by providing headphone jacks. You can use the headphone jacks to plug in your headset or earphones to listen to the radio message. It is compliant with a large range of headsets and earphones.
Conclusion
Included when you buy the Midland GXT5000 is your walkie talkie, a drop in charger, 2 lithium-ion 2200 mAh ultra high battery, a belt clip and a zippered case. It does not include any AA adaptor for the standard batteries, but they can be picked up fairly cheaply in most hardware stores. There is no DC adaptor. The dual charger allows you to charge one radio and a spare battery.
The Midland GXT5000 is slightly more expensive than the previous model the Midland GXT2000. The price difference is about 40 dollars, but for that you get a rather substantial update. The battery life of Midland GXT5000 is known to be around 18.5 hours which is a little more when compared to the Midland GXT2000. You also get a much sturdier version, and a professional walkie talkie that is built to last a lifetime.
Midland GXT5000 is a great walkie talkie for reaching up to 5 miles in an urban environment. You are paying the durability and professional grade advertising and it's military standards specifications. For some this may not be needed, but we imagine there are many people that take their walkie talkies into rough terrains that love this. We definitely think that if you are a vivid fan of for instance long hikes and mountain climbs this radio would be perfect for you.