Ratings
Design -

7.5/10

Features -

7.5/10

Range and Sound Clarity -

7.2/10

Price -

8.2/10
Cobra CXT390 Walkie-Talkie Review
Check lowest price:
Over the last decade Walkie-Talkies have lost favor as cell phones have taken over some of it's basic functions, but extended its tange to span the entire world through satellite connection. The few walkie-talkie brands that have survived have done so by diversifying and making their brand more than just a short range communication device. The Cobra CXT390 does just that by being not just a way to contact others, but also by literally being a life saver in some situations.
Performance
The Cobra CXT390 may not be a cell phone but it does have a ridiculous range for a walkie-talkie in its price range. At a maximum range of 23 miles this may as well be a cell phone; maybe even better in some situations. This amount of coverage is more than enough to cover an entire base camp and maybe even an entire park which is perfect for the avid outdoor enthusiast, grounds keepers, or even park rangers. Availability over 22 channels and 121 privacy codes combine to form 2662 channel combination to always guarantee a safe and crystal clear signal which means that these walkie-talkies could even be used for some law enforcement and emergency responder applications.
Of course these devices are primarily used for communication; but what sets them apart from the smart phone that you already have in your pocket? Its non-essential features are a good place to start like the voice activated transmission which has numerous applications including emergency situations where you may not be able to use your hands with ease. Then there is the tone system which offers a selection of 5 different tones which act as walkie-talkie ringtones to let you know exactly who in your party is trying to contact you. The compact size is also a benefit as a bulky machine is easy to drop and break or get caught on the surrounding environment.
Other Features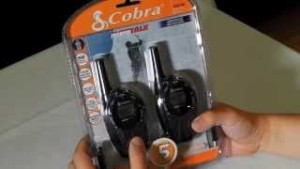 While the non-essential features are cool, it is the essential features that really set the CXT390 apart from its competition. Users can pretty much be guaranteed to never lose power since the Cobra CXT390 can be powered and recharged by a charging dock, a micro USB port, or AA batteries. The three charging methods are easily interchangeable, so you really have no excuse to run out of power!
The feature that really makes this device pop out is the weather alerts. With the built-in NOAA receiver you'll be guaranteed that you will never get caught in a storm. This kind of early alert system is a must have feature for those who spend a lot of time outdoors and away from any kind of safe shelter. Cobra does also plan for the possibility of the CXT390 to get a little wet as this set of walkies is made to be weather resistant.
Cobra doesn't just send you out into the wild with no support; this walkie-talkie set comes with a full manufacturers warranty to ensure that your devices are always working the way they are supposed to. Users will find that this set is not only weather resistant, but pretty rugged overall including being resistant to all sorts of impacts. This is just one of the many reasons why it is one of the most popular walkie-talkie sets on the market today.
Conclusion
There are other walkie-talkies on the market that do some of the same things that the Cobra CXT390 does, but very few of them do it quite as good and to the point as this Cobra does it. There is a reason why it is highly rated on top seller sites like amazon and people use them on land and sea alike. They are affordable enough for amateur use, yet reliable enough to be used by professionals. Neat extra features like voice activation make them desirable, but the essential components like the NOAA weather radio and 2662 channel combinations make the CXT390 one of the best walkie-talkies on the market. You would be hard pressed to find a better walkie-talkie set on the market for this price which is why the Cobra CXT390 is as popular as it is. If you ever find yourself in the middle of nowhere with nothing but a walkie-talkie by your side and a nasty storm bearing down on you, you are going to want this one by your side.