Ratings
Design -

8.0/10

Features -

9.2/10

Range and Sound Clarity -

8.4/10

Price -

9.5/10
Cobra CXR825 Compact Walkie Talkie Review
Check lowest price:
Walkie Talkies all pretty much do the same job and are all the same, right? They're designed to allow you to broadcast as well as receive transmissions and do a splendid job at it. In many cases they look very similar so from the outward appearance it can be hard to determine why one brand would be better than another. The Cobra CXR825 an affordable walkie talkie option on the market but you may be asking if this product is really worth the price.
One of the first things you probably notice is the small size of the Cobra CXR825 walkie talkie. It has the distinction of being one of the most compact high-powered GMRS/FRS walkie talkies available. It can easily fit in your pants or coat pocket and still deliver the same dependability that you expect from your walkie talkie.
The Cobra CXR825 walkie talkie is perfect for any area where you don't have a cellphone signal or where coverage is spotty. This includes campsites or even remote cabins or hiking areas. The clear LCD screen makes the display easy to read and the push button illumination makes sure you can see it in dim or dark areas also. The built-in NOAA radio receiver alerts users of any approaching storms or severe weather alerts. This allows you to alert others in your group if you have been separated and gives you time to come ashore if you are boating to take cover.
Performance
The Cobra CXR825 walkie talkie has a great performance. Under ideal conditions it gives users a maximum range of 30 miles. You can imagine you'll be able to reach this on a cliff face or from a high tower. In heavy forested areas, users can generally expect a range of up to 14 miles, which is incredible good for a radio of this price. In urban/city environments users can expect a range of 3 miles.
The compact walkie talkie is equipped with 22 GMRS/FRS channels, which give you plenty of different frequencies to choose from. To add to that, you have the option of using one of 142 privacy codes to ensure that your conversations are private and uninterrupted. The channels and privacy codes give users a combined 3,124 channels, which should be more than enough for the average user. Not only does this help to better prevent interference from nearby radios but also to get a stronger signal.
Other Features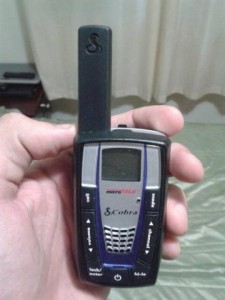 Other features of the Cobra CXR825 two- way radio include the VOX hands free operation and the VibrAlert silent paging system. The hands-free technology is voice-activated and makes talking, even when your hands are occupied very easy. The concept is simple, once the radio detects the users voice, the radio automatically transmits without any buttons having to be pushed. There are five built-in VOX sensitivity levels that give users the ability to select the point that they want the radio to detect their voice. The VibrAlert technology is handy because not only does it notify you of an incoming call it works great in both noisy and quiet environments. Nature can be peaceful and calm one minute and the next minute a storm could be brewing or if you engage in activities such as white water rafting the noise level can be at an all time high. However, thanks to the VibrAlert technology communication is still possible.
The desktop charger and the compact rechargeable lithium ion batteries help you to go longer between charges and makes sure that your Cobra CXR825 two-way radio is ready for your next adventure. The desktop charger wall adapter also has the ability to charge one of the radio headsets through the speaker/microphone/charge jack. The high and low power range are designed to help conserve battery life. The radio also features battery saver circuitry, which helps to further extend battery life. While the radio is in use, if within 10 seconds there are no unit transmissions, battery saver mode is automatically switched on.
The built in 10 call tones makes it easy to set different tones for incoming calls for up to 10 different people. There are also roger beep tone options that confirm the end of a transmission as well as alert others that the channel is clear and ready to use. The adjustable auto squelch feature keeps out unwanted noise and shuts off weak transmissions. The signal strength meter helps to keep up with the strength of incoming and outgoing transmissions. The 10-channel memory makes it easy to store commonly used channels for easy access.
Conclusion
The Cobra CXR825 compact walkie talkie has a long list of top of the line options and features. In addition to outdoor activities such a camping or hiking its perfect for field trips, conventions or even yard work where you need to be able to communicate quickly with the rest of your group. For the price you get dependability, quality and reliability and you can't put a price tag on that. Seems like a small price to pay when you think about the peace of mind it brings. The Cobra CXR825 walkie talkie definitely shows that big things sometimes do come in small packages.