Ratings
Design -

9.2/10

Features -

8.8/10

Range and Sound Clarity -

8.6/10

Price -

9.6/10
Uniden GMR3040 Business Walkie Talkie Review
Check lowest price:
Offering great sound and reception quality as well as great durability are some of the top features of Uniden's GMR3040 FRS/GMRS enabled walkie talkie model. The 22-channel walkie talkie radio operates over a range of between 2 to 4 miles in normal conditions and up to 30 miles if conditions are ideal. This makes the model handy for a wide range of uses.
The Uniden GMR3040 two way radio model is ideal for hikers, mountain climbers, backpackers, campers and other active sports enthusiasts who enjoy the outdoors. The device is handy for other leisure lovers too, like those wanting to keep in touch with loved ones, be it on a cruise liner or on an island-holiday getaway when extortionate international roaming costs on cell phones can cost an arm and a leg. Most importantly, the Uniden GMR3040 is packed with features that will keep you safe.
Uniden GMR3040 – Best Business Walkie Talkie?
Security guards and neighbourhood watch groups will find that the features and design of Uniden's GMR3040 two-way radio perfect when security concerns are a priority or in the event of an emergency arising. These communication devices are also particularly beneficial for emergency response crew like fire fighters and other rescue personnel when instant updates and reports are critical to saving lives
Other users who will find the ease of use and convenience offered by GMR3040's design and functions advantageous to businesses include event organisers like wedding and party planners, and home improvement businesses. Construction crew, sporting events organisers and concert staff need teamwork and excellent communication to ensure a smooth set-up, and this walkie talkie can play a vital role here.
Business can take advantage of the cost effectiveness of walkie talkie communication as there are no expensive contracts or monthly fees that tie you down. Because instant communication between all personnel is made easily accessible, another money-saving benefit is offered – fuel and maintenance costs for field service vehicles can be kept to a minimum.
A call alert on a Uniden GMR3040 business walkie talkie means one thing: business. No time wasting disruptive interruptions from annoying telemarketers. And best of all, they come ready to use out of the box seeing that no existing infrastructure is required to operate them. Just make sure that the batteries are charged and you are good to go.
These walkie talkies offer amazing features that start-up enterprises to medium-scale businesses to huge conglomerates can benefit from. They are also easy to operate which means that less time is wasted in training.
Other Features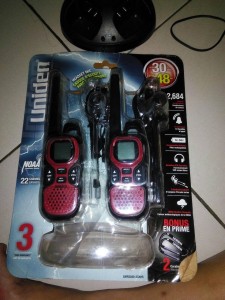 The innovative NOAA weather alert function makes this walkie talkie particularly helpful and effective in keeping you informed of changing weather conditions. In some areas, especially mountainous or heavy forested places, weather patterns can change in an instant and the last thing you want to be is caught unprepared in a storm. Why put your outdoor adventure at risk? Nothing can ruin the perfect camping holiday or hiking excursion, or even a ride on a rollercoaster at an amusement park quite like a storm. The availability of Uniden's GMR3040 walkie talkie means that you are never caught unprepared by the weather.
Valuable features of Uniden's GMR3040 two-way radio
Weatherproof covering that makes the device perfect for outside use. Rain will now not damage your device.
The easy to read and comfortable backlit LCD display screen is particularly useful when sufficient lighting is a challenge.
Excellent sound quality, especially when privacy code functions are used giving no disturbance signals.
Lightweight design.
15 GMRS (best for longer distances) and 7 FRS (best for short range) channel options. making the total the number of available channels 22.
Channel scanning and 121 privacy setting options.
The recharge capabilities and the Battery Strength Meter as well as the low battery alert help you keep your device powered up (battery life up to 10 hours is offered).
VOX headsets and carabiner loop for those requiring hands-free function.
Conclusion
When you buy the Uniden GMR3040 walkie talkie you get:
Two walkie talkies
Two headsets
Large-sized fixed antenna
Two belt clips plus two carabiner clips
Charging cradle (charges both radios) plus AC adapter
Dual Pocket Desktop Charger
2 NiMH battery packs
Manufacturer's manual
Whether you are in retail, manufacturing, entertainment, hospitality or the construction industry, or even just for personal home use, the Uniden GMR3040 walkie talkie offers good solid value. A three year manufacturer's warranty is offered.