Ratings
Design -

7.6/10

Features -

8.6/10

Range and Sound Clarity -

7.6/10

Price -

7.2/10
Motorola MU354R Walkie Talkie Review
Check lowest price:
You may already own a Bluetooth headset that you could use with a handsfree smartphone. If this is the case the Motorola Talkabout MU354R walkie talkie was built exactly with you in mind. The Motorola MU354R is Motorola's first Bluetooth-enabled walkie talkie, allowing for complete handsfree and wireless operation.
The Motorola MU354R does carry a slightly higher price versus entry-level walkie talkies designed for personal use. In fact, we feel that this model is at a high price point for a consumer-level walkie talkie radio, so you'll have to weigh the feature set of the MU354R versus the value it offers. Of course, you always could purchase a less expensive walkie talkie and add a wired earbud with a touch-to-talk microphone to achieve similar features to the MU354R, but it's impossible to duplicate the built-in Bluetooth wireless connectivity.
Performance
Because the MU354R's Bluetooth option is new in the market, it's worth providing a brief definition of Bluetooth. Bluetooth is a communications standard, allowing devices to communicate wirelessly over very short distances of a few feet. The Bluetooth standard, which is identifiable by the Bluetooth logo (which is a skinny, sharp angled B), is designed to replace short cables used to connect devices.
Keep in mind that the Bluetooth capability in the Motorola MU354R will not boost its ability to send signals over long distances. The Bluetooth inclusion only allows you to leave the Talkabout MU354R attached to your belt or even in your bag, while talking and listening to messages on your Bluetooth headset, as the signal travels wirelessly between the headset and the radio. It's worth noting that using Bluetooth will cause a slight delay in the signal traveling from the radio to the headset, while using the radio directly with no Bluetooth eliminates this delay.
Motorola estimates that the MU354R can send radio signals over a distance up to 35 miles, but as is always the case with these promises such a measurement is only applicable during perfect weather and terrain, along with a lack of obstacles and interference sources. Your real-world results certainly will be much less than the maximum distance. Motorola estimates the MU354R will work up to six miles in distance on open water and up to two miles in an urban area. Again, these distances are only achievable under perfect conditions, so your typical results will be much less than these estimates.
However, Motorola did give the MU354R a push-to-talk power boost feature, by which you can boost the transmission power output when needed, allowing for usage over longer distances than the current conditions allow under standard transmission output. When a transmission boost isn't needed, you can use the more basic transmission output, conserving battery life.
The Talkabout MU354R offers 22 signal channels, as do most two-way radios designed for at-home use. But this model also has 121 privacy codes, allowing you to split a signal channel and making it easier for you to find a clear signal that other people in the area with two-way radios aren't using. Many times, less expensive two-way radios don't include this feature.
You can operate the MU354R for about nine hours when running from the rechargeable battery or about 15 hours from three AA alkaline batteries. Battery life will vary greatly though, depending on how often you use the Bluetooth and transmission boost features.
Other Features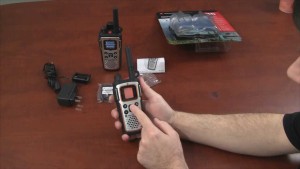 The MU354R measures about 1 1/2 inches in depth and 2 1/2 inches in width. The antenna measures about 3 1/2 inches in length. This unit has a bit of an odd look, with a black outer case, a silver front plate with orange trim, and an orange display screen, but the contrasting colors can make it easier to find this unit if you drop it in a darkened location. This unit has a rugged look and feel that will leave you confident about using this radio in tough conditions. It's waterproof against rain or snow too.
The Motorola MU354R includes the ability to receive NOAA weather and other official emergency alerts, which is a great feature if you plan to take the radios with you on a camping trip where you're out of cell phone range.
Unlike some less expensive, consumer-level two-way radios, the MU354R includes a silent ring mode, alerting you via vibration to someone wanting to speak with you, similar to a smartphone. This is a great feature if you're using this radio on a hunting trip, where the noise from a ringer could spook prey.
If you have enough battery power, you can activate the Motorola MU354R's emergency LED light, which is another excellent feature.
Conclusion
Motorola offers a host of accessories with the MU354R, including a car charger, a desktop charging base, a Bluetooth touch-to-talk pod, and a high-capacity rechargeable battery pack. Motorola offers the MU354R in both a one- and two-radio kit, but a Bluetooth headset is not included with either kit.
The Motorola Talkabout MU354R is an impressive unit, being the manufacturer's first two-way radio to include built-in Bluetooth capabilities. With this advanced feature it's not really surprising to see that the MU354R carries a higher price tag than most two-way radios designed for at-home use.
Deciding whether you should spend the extra money for this unit may depend in large part on whether you already own a Bluetooth headset that you can pair with the Motorola MU354R. If you don't own a Bluetooth headset, you're not only looking at the elevated cost of the MU354R, but you're also going to have to purchase a Bluetooth headset.
Should you go with a cheaper two-way radio that doesn't include built-in Bluetooth, you could purchase an accessory that will provide connectivity between an earpiece and the two-way radio without the expense of Bluetooth. But if you have already spent the money for a Bluetooth headset, pairing this radio with the headset should allow you to unlock more value from both units.