Ratings
Design -

9/10

Features -

9.4/10

Range and Sound Clarity -

8/10

Price -

9/10
Summary
This walkie talkie has many nice features you would normally find in professional radios that are priced several times more than this product. This is a good entry level consumer product, and despite the fact that it is not top of the line, it gets the job done and it gets it done with ease. It is packed with features, and makes for a good inexpensive starting device into the territory of walkie talkies.
Over the years, one of the biggest strengths of purchasing Motorola walkie talkies have become the durability and reliability of these devices. One of the biggest strength of the MR350R is how small and lightweight this feels when in use. It may not be moto's best offering on the market, and it is certainly a bit pricier, but for the people who are looking for a small walkie talkie which is light, this is a good offering.
Also, since this is a consumer offering, it is priced low, and for activities such as camping, skiing, or convoy style rides, these are a good offering.
Check lowest price:
Key Highlights of The MR350R
The MR350R is clear, well-built, and durable. A lot of people have been using this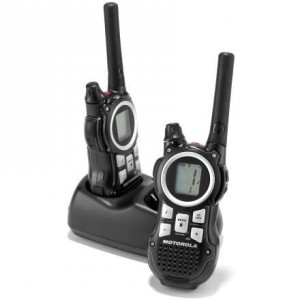 device as their daily driver for 4+ years. This thing is built like a tank, and it has been built to last.
The industry is measurement standard for range is to measure the distance that one is able to communicate from one mountain peak to another. Given that this is probably not the use case you are going to be using this device for, your mileage may vary. The bottom line is that your actual range in an urban setting will probably be around 1/2 to 1 mile. However, for a camping trip or use in a ship or open area, you might get amazing results.
The look and feel of a device you are planning on using regularly is very important. The MR350R is not too heavy, which may or may not be good depending on how you feel about it, but it's not too light also, and it certainly won't feel cheap when in your hands. The MR350R can be easily clipped on to a belt or a backpack chest strap. All that you need to do is attach the belt clip to a pocket or belt strap, align the belt clip post with the hole in the back of the radio, and gently push until the clip clicks in place.
Each radio can use either 1 NiMH rechargeable battery pack or 3 AA alkaline batteries and the device beeps when the batteries are low. This device will last 5-6 days on a full charge with moderate to heavy use.
Note
The walkie talkie has a USB port for charging, which we hoped would make it easier to recharge in a pinch. For example, one could have used a power bank if the power went out at your camping site.
However, these seem to be using mini-USB instead of micro-USB, which means it's not the same connector as your phone. Most phones these days use USB-C, so it would be nice to see a walkie talkie with an actual USB C-PD standard. However, these device radios normally charge using the provided dock and not USB, but it would have been a convenient addition. The MR350R does not dissapoint here, but a new version of this device would have been a welcome addition.
Special Features
This walkie talkie has a built-in flashlight. Sometimes it is convenient to have a walkie talkie which works as a flashlight too. It keeps one hand free, and this is a big bonus if you are trekking at night or in a situation that requires attention. All you need to is to press and hold the flashlight button to turn and keep the light on. The switch functions as a momentary control for the light as well. It works identical to any other flashlight on the market.
The MTR350R also features an emergency alert mode. The emergency alert feature can be used to signal members in your group of your need for some urgent help. MR series radios will operate in an automatic "hands-free" emergency control mode for a total of 30 seconds after activating the emergency alert.
You can also lock your keypad. If you are in a situation where you have to deal with fidgety kids, trust us, this is a life saver. When in lock mode, you can turn the radio on and off, adjust the volume, receive, transmit, send a call tone, and monitor channels. All other functions are locked. You can also use scan to search the 22 channels for transmissions from unknown parties, to find someone in your group who has accidentally changed channels, or to quickly find unused channels for your own use.
Conclusions
The MR350R has quite a lot of features that you cant find on a lot of entry level devices. Not only is this device good to hold, but also quite sturdy. There may be a ton of choices that are cheaper than this offering, but there is no denying that this is a good entry level consumer product. This device is not top of the line, but it meets the requirement of almost every situation and use case one would use this device for. If you are beginning your foray into walkie talkies, this is not a bad product to consider seriously. You can head over to the Amazon listing here if you want to check it out.