Ratings
Design -

9.5/10

Features -

9.5/10

Range and Sound Clarity -

9.6/10

Price -

8/10
The beauty of professional walkie-talkies is that they are built with a certain user set in mind. Keeping that in mind, holding the Kenwood TK-3230 gives you the premium feel that you have paid good money for. If not you, at least your organisation has. This walkie-talkie is aimed at business users who might be looking for a two-way UHF walkie-talkie.
At just under two pounds, the device does not feel like a kids walkie talkie. I have been using kids walkie talkies for a while for review purposes, and I welcome this change. The entire walkie-talkie is made of premium plastic. The unit in itself is very durable, and that reflects in it's in-hand feel. These are powered by Lithium-ion batteries and claim to have a standby time of a day.
Check lowest price:
Design
Apart from the all-plastic build, you will immediately notice the large push to talk button which is certainly having a very clicky feel to it. I love pressing it whenever I need to. There are five buttons on the front, which include two up and down buttons and a menu button for configuring the device. There's an antenna at the top which can be screwed into place. You get a very readable and bright LCD on the front of this device. It is backlit as well. You get a charging dock station that has metal contacts when you charge this device. There is a clip on the back side of this unit as well.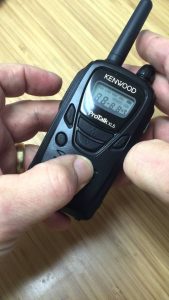 Just to put into perspective how well this device is built, I have dropped these at least eight to ten times on concrete and these don't even have faint cosmetic damage on these. These could easily survive thrice the number of drops and be absolutely fine. I love the build quality of these.
Features
This device transmits at 1.5 W at UHF frequency. This device is VOX capable, and it works fine on this device. You also get privacy codes, so you can have a separate conversation which cannot be snooped upon by other users. There are a bunch of tone alerts that you might want to check out. You also get a key lock for making sure no keys are pressed inadvertently. One of the most interesting features that might come in handy here is that you can wirelessly clone the settings of the walkie-talkie with another one of the same kind. So if you are someone in charge of setting a bunch of these up your life will certainly get a lot easier.
There is a battery saver feature which kicks in if the battery goes too low. You also get low battery alerts reminding you of charging your device. You can select a call alert tone from the 10 or so ones provided, in the menu. The batteries take about 3 hours to fully charge. While I was using these, it took me about 12 hours of active use to fully drain the battery. Standby time could easily cross 20 hours on this unit.
A word of warning, however. The menu selection doesn't work the way the instruction manual says it does. You have to scan through all the channels first in the menu to get to the other functions. The instruction videos demoing this on youtube are what I would recommend to you if you have one of these and are configuring them.
Range and Sound Clarity
Just to test this out, I have been using these at a sprawling four-acre property, and I have had absolutely zero complaints so far. The range is great on this device. As far as the sound quality goes, this department checks all the necessary boxes as well. There is auto-squelch on this thing on this unit, and it works as advertised. It doesn't overdo it either, which is great while using this device.
There are 90 built-in frequencies on this device, so you can work with what suits your communication needs. So you should get about 10 stories worth of range, which is equivalent to 1.5-3 miles in urban environments, up to 5 miles in rural, and 250,000 sq ft inside structures.
Accessories
If you are looking for some accessories for this radio, we recommend the Kenwood KHS-34.It is an in-line push and talk switch Microphone with a small C-Ring Ear hook that rests on your ear. When connected, the microphone and speaker will disable the similar functions in your radio. The KHS-34 ear set works for both the left or right ear.
Licensing
The FCC requires by law for all business radios that use UHF to get a licence. However, I have not seen more than 5 percent people get a licence for these things. Having said that, if you do not want to run into legal trouble and work at a firm where such things matter, the obvious decision if to procure the valid licence from the FCC. I have written quite a few times about it, so you can read up on a few of them. I believe these are "business class" Part-90 radios, which require a business license to be legally used. Penalties for unlicensed use can be $5000+ per radio.
Conclusion
This Kenwood TK-3230 is a business powerhouse. While this doesn't come cheap, you will not regret this purchase. However, if you are looking for something even more powerful I would recommend that you take a look at the Kenwood TK-3402U16P. It has a transmission power of 4 watts, and it is the most powerful radio in their product portfolio. The Kenwood TK-3230 is something you can depend on when it comes to your business needs.