Ratings
Design -

9.1/10

Features -

9.6/10

Range and Sound Clarity -

8.8/10

Price -

8.5/10
Kenwood TH-K20A Walkie Talkie Review
Check lowest price:
Walkie Talkies have always been the stock and barrel of law enforcement officials to quickly and continuously establish communication between the station and the roaming policemen. Today, walkie talkies have evolved and become a way of life for establishments such as hospitals, universities, construction sites, and other businesses that needs to keep tabs on their people working in and out of the workplace. Additionally, walkie talkies have become increasingly important for groups going out adventuring in places where cell phone coverage may not be ideal. Simply put, walkie talkies have become more a necessity, instead of a luxury.
Due to this new demand, companies that are involved in the production of walkie talkies have upgraded old models leading to creations of some of the highest technology radios that feature high-end capabilities but still remain user friendly for first-time users.
Performance
The Kenwood TH-K2OA has a high pressure audio feature specifically designed for audio clarity.
The size of the product:
Width: 890 hundredths-inches
Height: 380 hundredths-inches
Length: 990 hundredths-inches
Weight: 200 hundredths-pounds
Color: Mostly Black but other colors are also available
The LCD display is a large 13-segment that is conveniently backlit to make it easier for you to change settings or pick memory names. On the other hand, the keypad backlighting makes it convenient to carry on operations in places where lighting is inadequate.
Other Features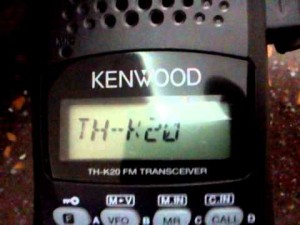 There are 12 keys to the walkie talkie radio of which 11 of them are pre-programmed for different functions. The twelfth key could be custom-functioned assigned which makes it possible to have your own custom-built TH-K2OA. You can skip using the menu as direct access is provided by one key push. Three kinds of key locks are given to guard the radio against any accidental operation.
By using a headset, the TH-K2OA gives hands-free convenience due to the circuitry of its voice-operated transmission through its internal VOX. It further provides a sensitivity of 10-level adjustment that is suitable to different levels of noise and an automatic PTT. Adjusting VOX delay time is also allowed.
Continuous Tone Coded Squelch System or CTSS and Digital Code Squelch or DCS is built-in which makes the TH-K2OA capable of handling 104 DCS codes and 42 CTCSS sub-tone frequencies. RX and TX signaling can be separated which can give you access to a repeater that uses a different signaling for encode/decode.
Other Convenient Features:
DTMF Autodial Memories of up to 16 channels
Electronic Serial Number
Power-On Message
Battery Save
On transmit Battery Capacity Indicator
Hz Tone Burst
Time-out Timer
Direct Keypad Frequency Entry
CTCSS Scan/DCS Scan, MR Scan, Call Scan, Band Scan, Program Scan
SMA Antenna Connector
Priority Scan
Narrow/Wide Channel Spacing
Busy Channel Lockout
Automatic Repeater Offset
Lock Type Select
Conclusion
The Kenwood TH-K2OA is a very popular model, and it has been reviewed hundreds of times. Product reviews of TH-K2OA from consumers have been very favorable when it comes to its features. As always, products will also have their share of unfavorable reviews and price could be one.
The TH-K20A may be a little pricey compared to other brands, yet the features that come along with it could more than justify the price attached. The best option for consumers like you to take would be to carefully read the details of the product, comparing it with other brands selling the same product. The next to consider would be the actual situation that you need the TH-K20A. If you think that TH-K2OA will work well for the situation that you are going to need it for, then the decision has been made for you.
Another tip that can help you in your decision would be to read the reviews from other people who have bought and used the product. They can be unbiased and straight to the point. These reviews are usually posted right after the buyers get the product and some of them are very helpful references for you to understand more about it. You will also be able to see if the favorable reviews far outweigh the unfavorable ones. In this way, you can decide if the product will surely fit your needs.