Ratings
Design -

6.8/10

Features -

7.5/10

Range and Sound Clarity -

7.2/10

Price -

9.4/10
Midland LXT118 Walkie Talkie Review
Check lowest price:
With the popularity of cell phones in the last couple of decades, many people forget the hundreds of uses that walkie talkies can offer, especially to hikers and people in the outdoors. If you are in the market for a new walkie talkie, then here is what you have to know about the Midland LXT118 walkie talkie radio and how it compares with other choices available on the market today.
Walkie Talkies allow you to transmit and receive radio signals. With walkie talkies, the user can have conversations with similar radios on the same frequency or channel. Walkie talkies normally function on what's called a half-duplex mode. That means that the user can listen or talk, but you can't do both at the same time. This is one of the distinct differences between walkie talkies and cell phones.
You may be asking yourself at this point what the benefit to owning a walkie talkie is when most people have cell phones. Well, if you're an avid adventurer or hiker, then you go a lot of places where there will be no cell phone service – and why would there be? No one wants the majesty of the untouched wilderness to be ruined by big, ugly cell phone towers. Your cell phones simply can't go everywhere you can, nor would you want them to, and this is exactly one of the examples where walkie talkies come into play.
Hiking is an activity that attracts people of all skill levels. You should be able to enjoy the great outdoors with people who may or may not be at the same skill level with you, and this is where walkie talkies are a must have. Staying in communication with people in your group who go at a different pace than you is important for everyone's safety and security. Plus, the wilderness can be unpredictable and accidents do happen. For example if you fell and strained your ankle, you would want to have a walkie talkie ready to communicate with others in your group, or even rescue services when they come into range.
Features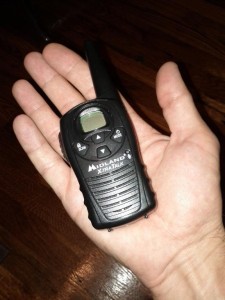 If you're shopping for a walkie talkie then there are several things to consider. First, you'll want to think about the size and weight. If you're going to be backpacking you need something that isn't too bulky and heavy and it will need to have an ergonomic shape that is easy to hold onto. Another important factor to consider is the battery life as well as the range of the walkie talkie to see if it will fit your needs on your specific hike or trip.
The Midland LXT118 has a range of up to 18 miles. It also has eVox, which allows you to operate the radio hands free. This can be quite handy when you're ascending a steep climb! It also offers a keypad lock to prevent accidental activation of mode keys and function so you don't accidentally change your settings, and keystroke tones so that you can hear clearly when a key is pressed. It is also water resistant which is a must-have for any equipment you take out into the great wide-open. You never know what kind of weather you are going to run into.
If you're worried about the quality of communication you will get with the Midland LXT118, then let this set your mind at ease. It has 22 channels to provide you with the clearest communication possible. It also has a channel scan where you can automatically check channels for activity and an auto squelch feature to remove irritating background noise.
The Midland LXT118 also offers dual power options. You can either run it with 3 AAA batteries or a rechargeable battery.
Conclusion
There's no doubt that there are a lot of choices when it comes to walkie talkies, so why go with the Midland LXT118? Quite simply, it's the value. Midland products are constantly ranked by hiking and outdoor guides as some of the best walkie talkies you can purchase, and Midland offers a large range of walkie talkie radios that best fit your needs. The LXT118 is a very affordable model that gives you a lot of bang for your buck. They have all the features that hiking experts recommend on a walkie talkie in order to provide you with the best communication possible with your group or others.
Exploring the outdoors and hiking is one of the greatest experiences you can give yourself in life. There are so many nearly untouched places on the planet that should be explored. It's not only good for your body, but your mind to go exploring and to leave the cares of everyday life behind. The walkie talkie that the Midland LXT118 offers you, allows you to go into the wilderness with peace of mind and confidence and to enjoy your experience to the fullest extent possible. So go out and seize the day!